Hallo semua saya balik lagi ni, huhu udah lama ya gak nulis di blog tapi tenang sekarang diusahain bakal lebih sering nulis di blog yaa. (Semangatt!!)
---
Buat kali ini saya bakal nulis tentang bagaimana cara koreksi atmosferik citra sentinel-2 menggunakan 2 cara yaitu Sen2Cor pada SNAP dan Semi Automatic Classification Plugin dengan Quantum GIS, stay tune yaaa….
Sebelum mulai sekarang siapkan dulu citra sentinel-2 , Sen2Cor dan QGIS.
Link download citra sentinel-2 https://scihub.copernicus.eu/
Link download Sen2Cor https://step.esa.int/main/snap-supported-plugins/sen2cor/
Link download QGIS https://qgis.org/en/site/forusers/download.html
Sebelumnya saya mau jelasin sedikit apa sih koreksi atmosferik itu.
Koreksi atmosferik bertujuan menurunkan reflektansi obyek dari total radiansi TOA setelah proses normalisasi kondisi pencahayaan dan penghapusan efek atmosfer. Pada citra sentinel-2 yang digunakan peneliti masih perlu adanya koreksi atmosferik dikarenakan citra sentinel-2 yang diunduh yaitu level-1C dimana untuk level ini citra baru terkoreksi sampai reflektan TOA (Top Of Atmosphere).
Adapun ada 2 metode dalam koreksi atmoferik citra sentinel-2 yaitu :
1) Prosesor koreksi atmosfer menggunakan perangkat lunak Sen2Cor yang dikembangkan untuk mengoreksi data tunggal Sentinel-2 Level-1C TOA dari efek atmosfer untuk menghasilkan Level-2A BOA
2) Semi Automatic Classification Plugin yaitu plugin yang terdapat di Quantum GIS pada bagian pre-processing untuk koreksi atmosferik sentinel-2
Hasil Perbandingan Sebelum Koreksi dan Setelah Koreksi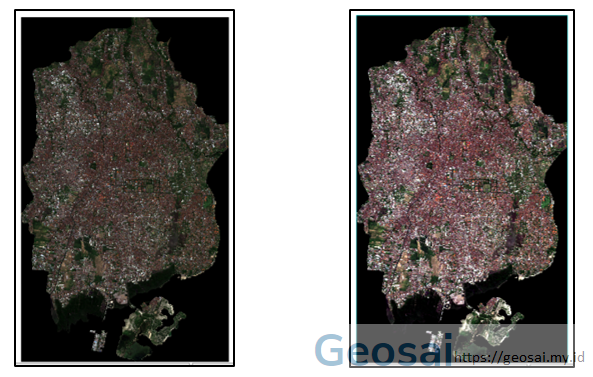 KOREKSI ATMOSFERIK SEN2COR
1. Unduh Prosesor Sen2Cor, Sebelum melakukan koreksi atmosferik pastikan sudah mengunduh prosesor Sen2Cor di laman resminya https://step.esa.int/main/. Klik SNAP Supported Plugins > Sen2Cor.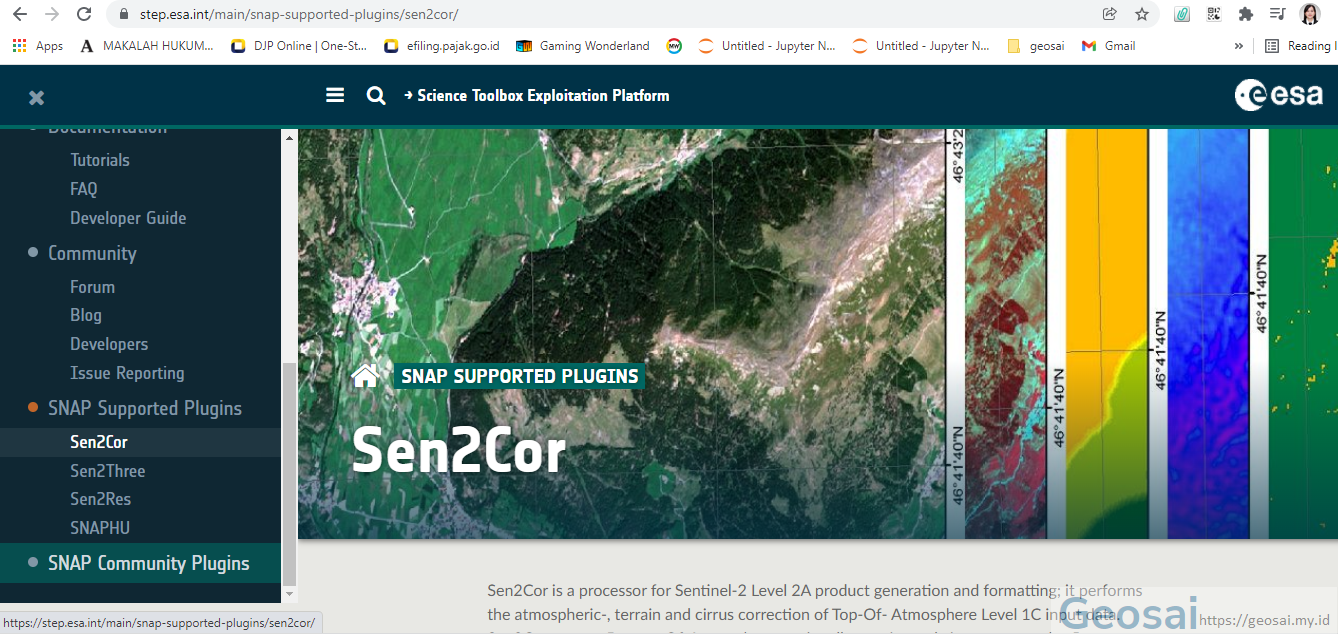 2. Selanjutnya membuka CMD dengan menekan tombol windows + R > CMD > OK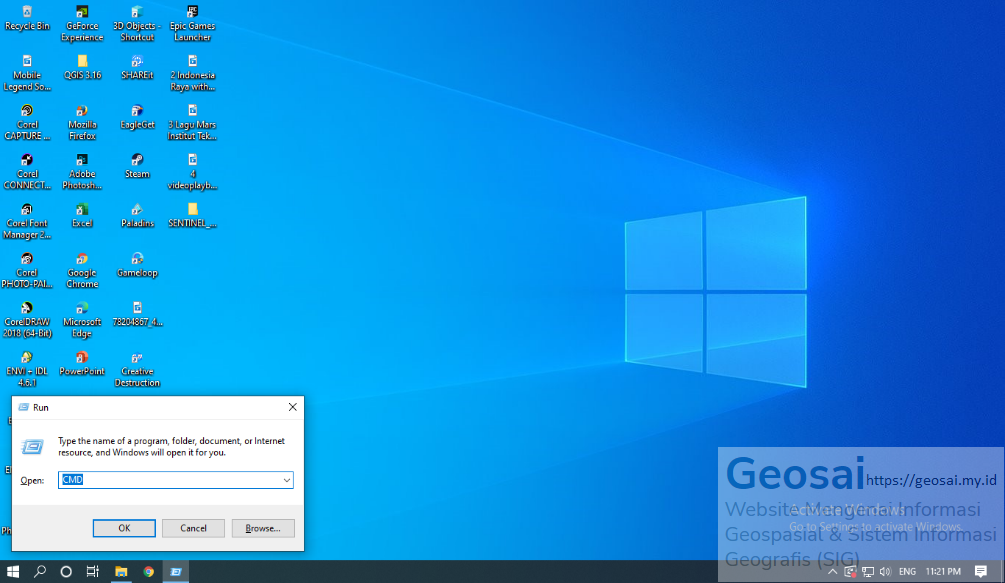 3. Setelah CMD windows terbuka ketik formula untuk melakukan koreksi yaitu cd > space > copy dan paste alamat penyimpanan prosesor Sen2Cor yang ada di komputer > enter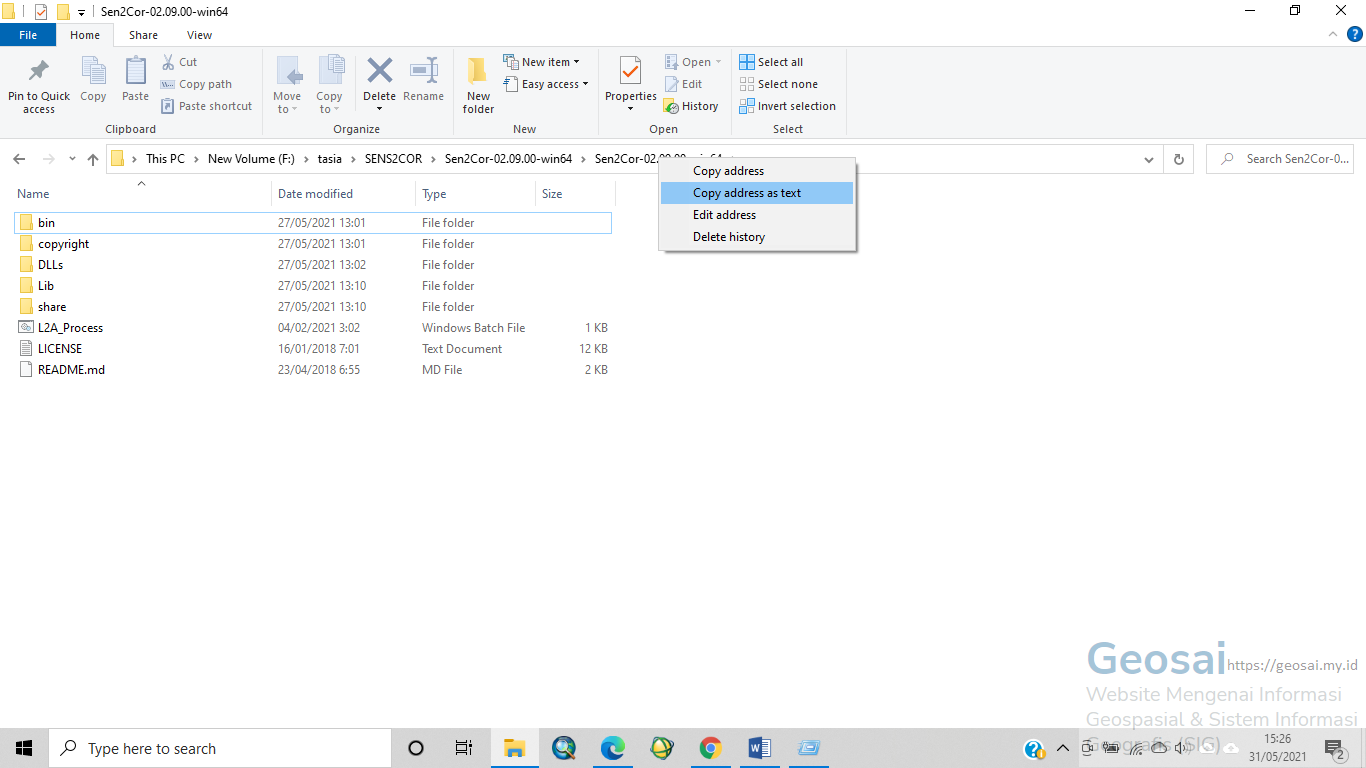 4. Enter jika berhasil terbaca alamat penyimpanan Sen2Cor pada komputer, setelah itu ketik lagi formula yaitu L2A_Process.bat –resolution 10 " > copy dan paste alamat penyimpanan citra yang akan dikoreksi atmosferik > " > enter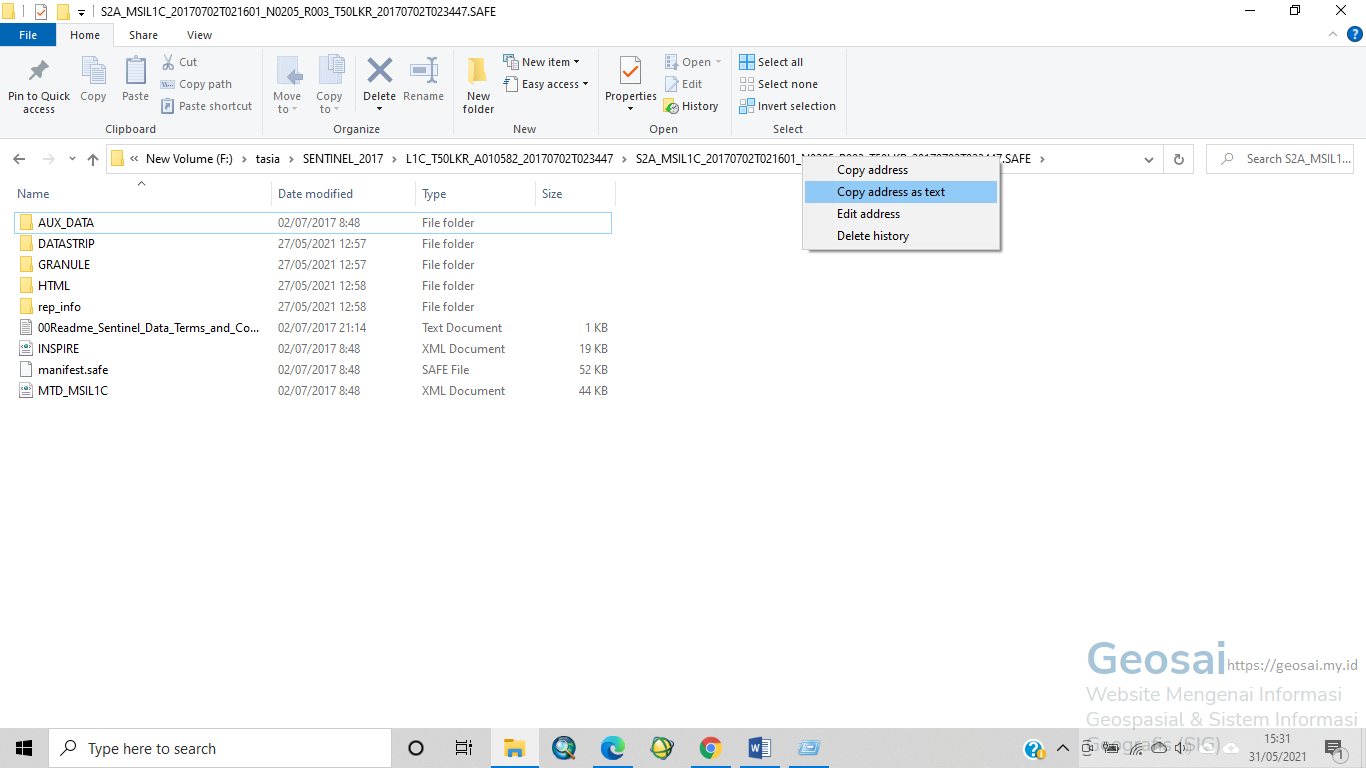 5. Proses koreksi atmosferik akan diproses sampai progress [%]: 100,00 application terminated successfully 10-15 menit tergantung spek computer yang digunakan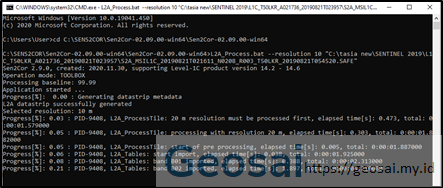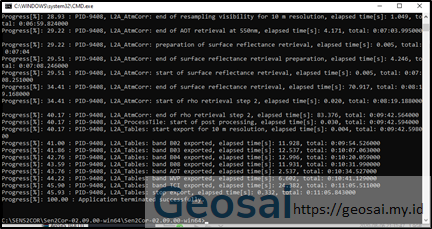 6. Jika progress sudah 100 % seperti gambar diatas, pada folder penyimpanan citra akan membetuk file baru dengan keterangan level-2A artinya citra sudah berhasil dikoreksi sampai ke level-2A yaitu BOA (Bottom Of Atmosphere). seperti gambar dibawah akan terbentuk folder baru L2A. Maka artinya citra sentinel-2 sudah berhasil di koreksi atmosferik.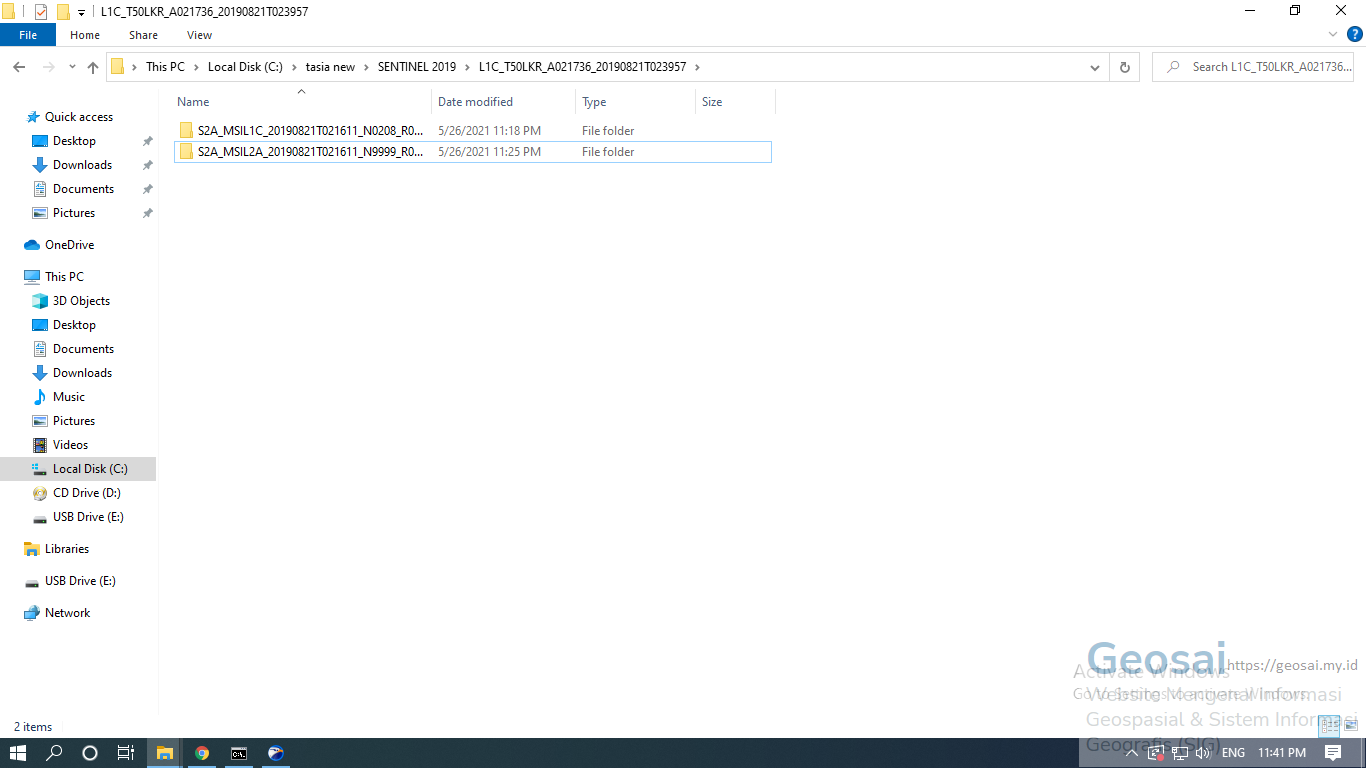 KOREKSI ATMOSFERIK SEMI AUTOMATIC CLASSIFICATION PLUGIN QGIS
1. Membuka software Quantum GIS, dan menginstal plugin semi automatic classification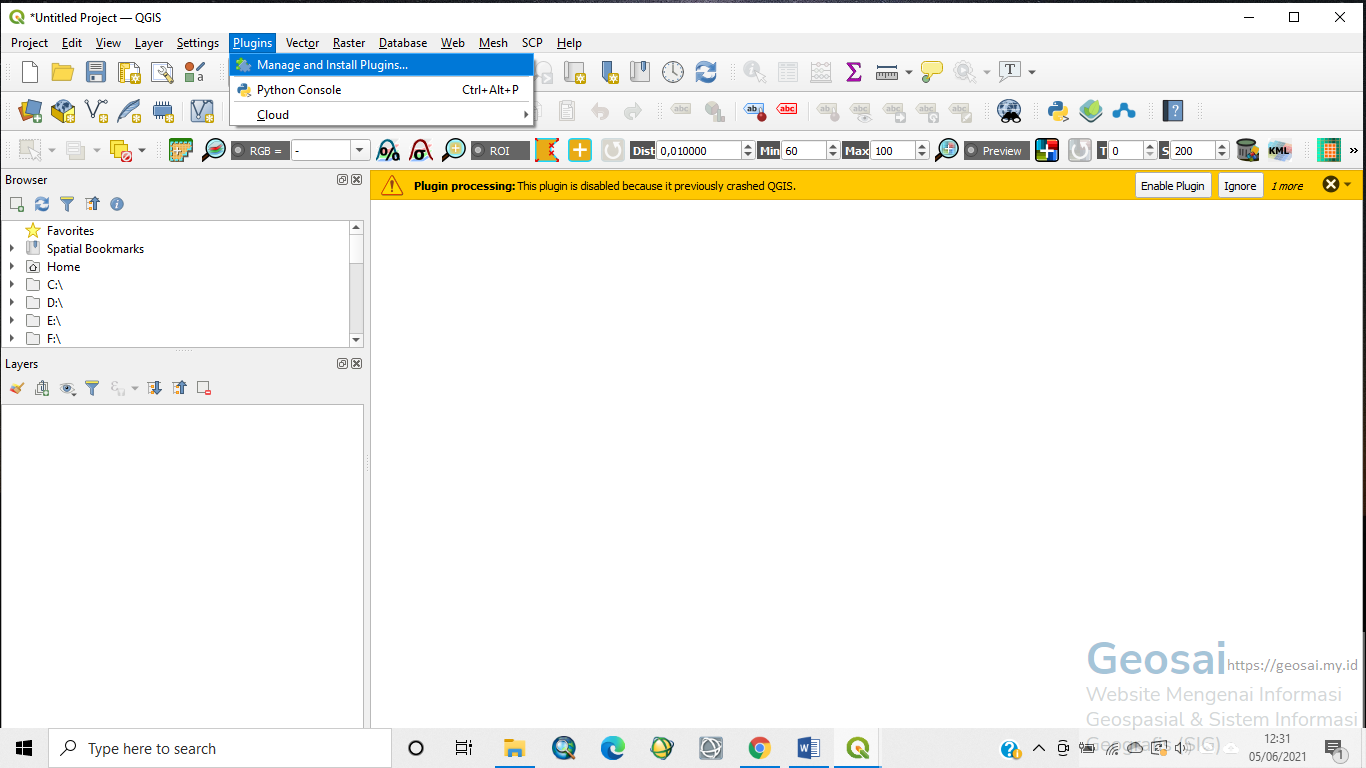 2. Instal plugin Semi Automatic Classification Plugin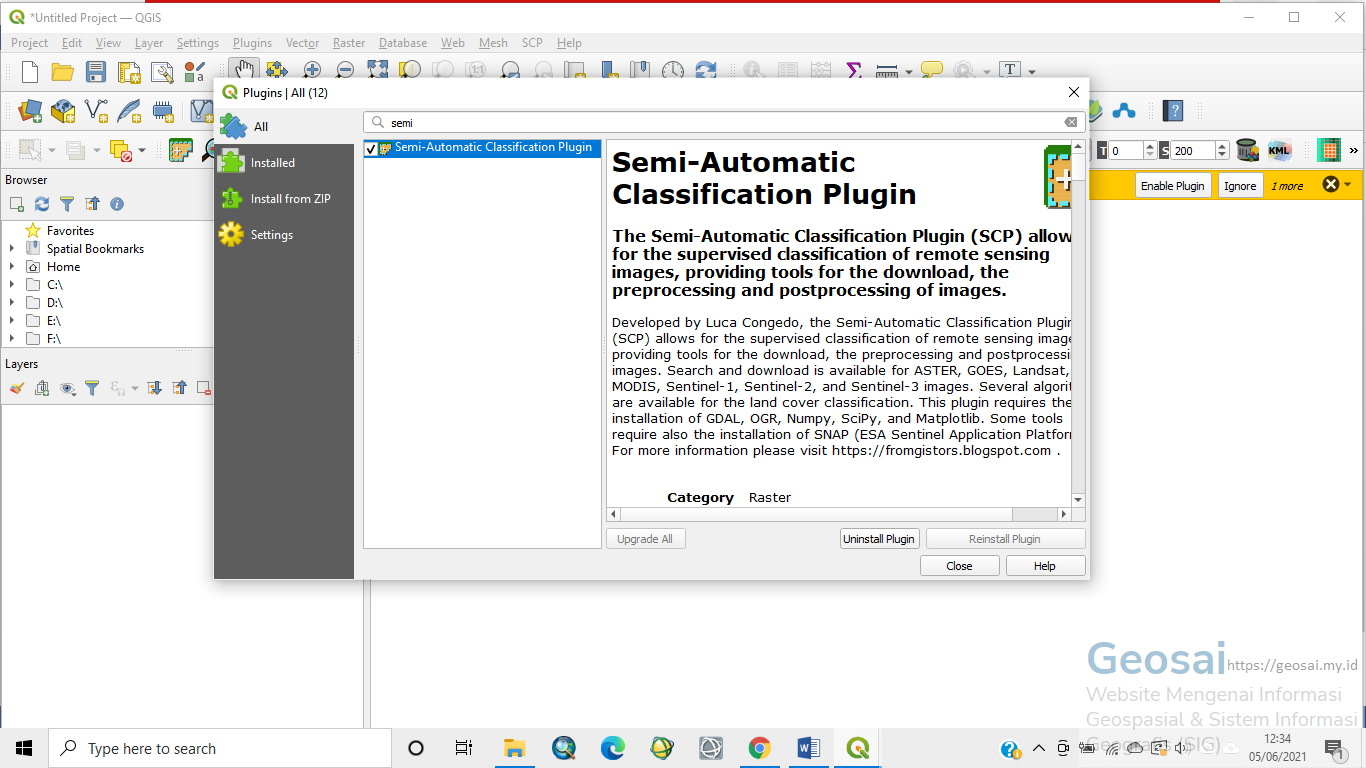 3. Membuka semi automatic classification plugin > preprocessing > Sentinel-2 > masukan folder data citra > masukan metadata citra > centang apply DOS1 atmosphreric correction > centang create bandset and use bandset tools > add band in a new bandset > save data > RUN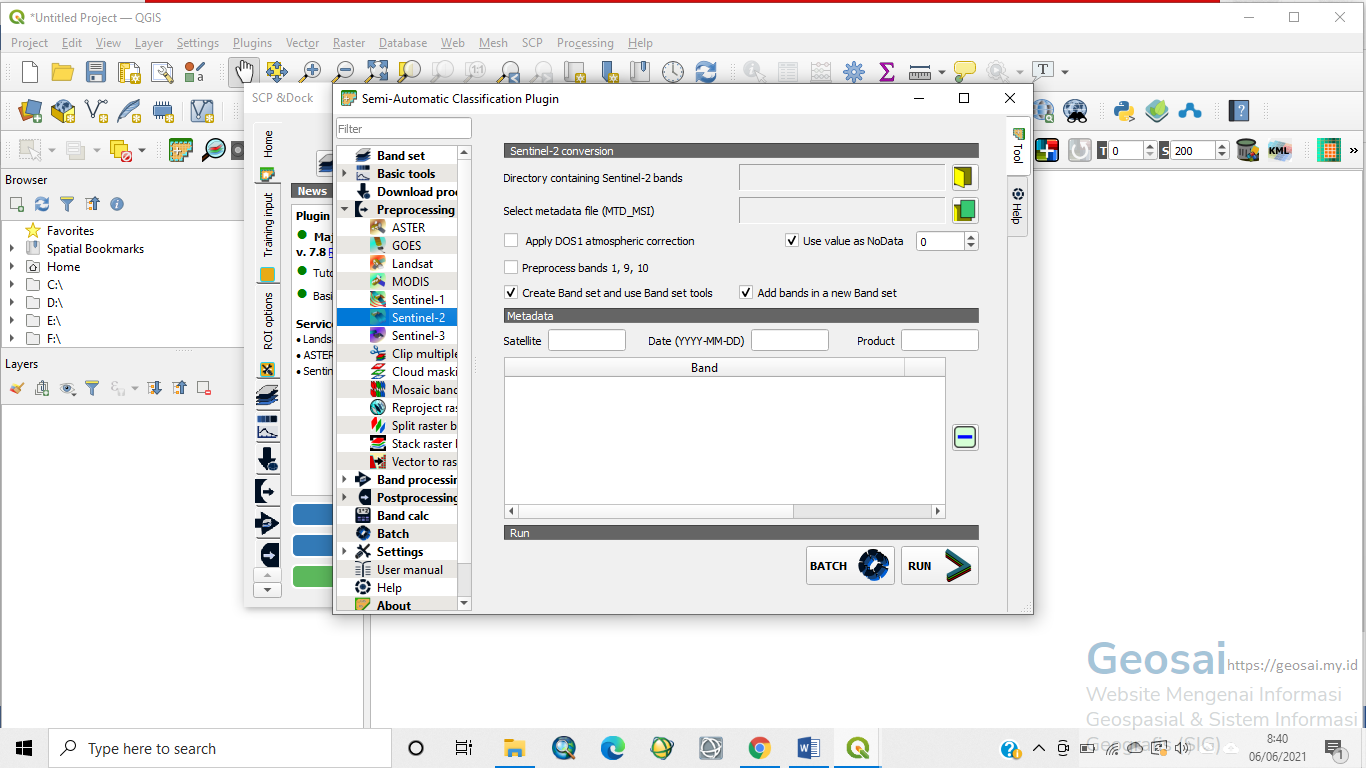 4. Memasukan folder data citra sentinel-2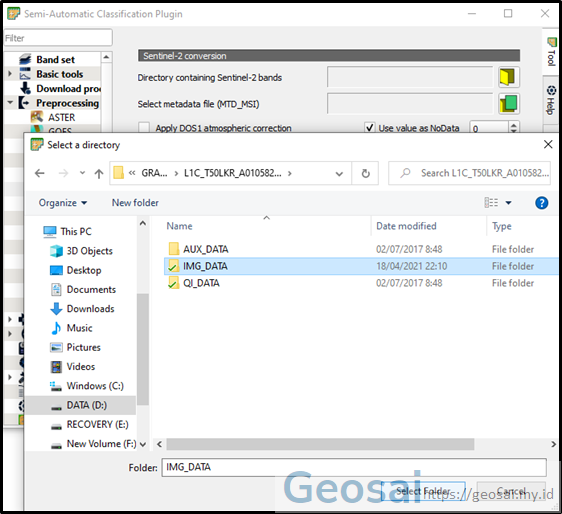 5. Setelah citra diinput dan mencentang apply DOS1 atmosphreric correction serta membuat folder penyimpanan kemudian RUN.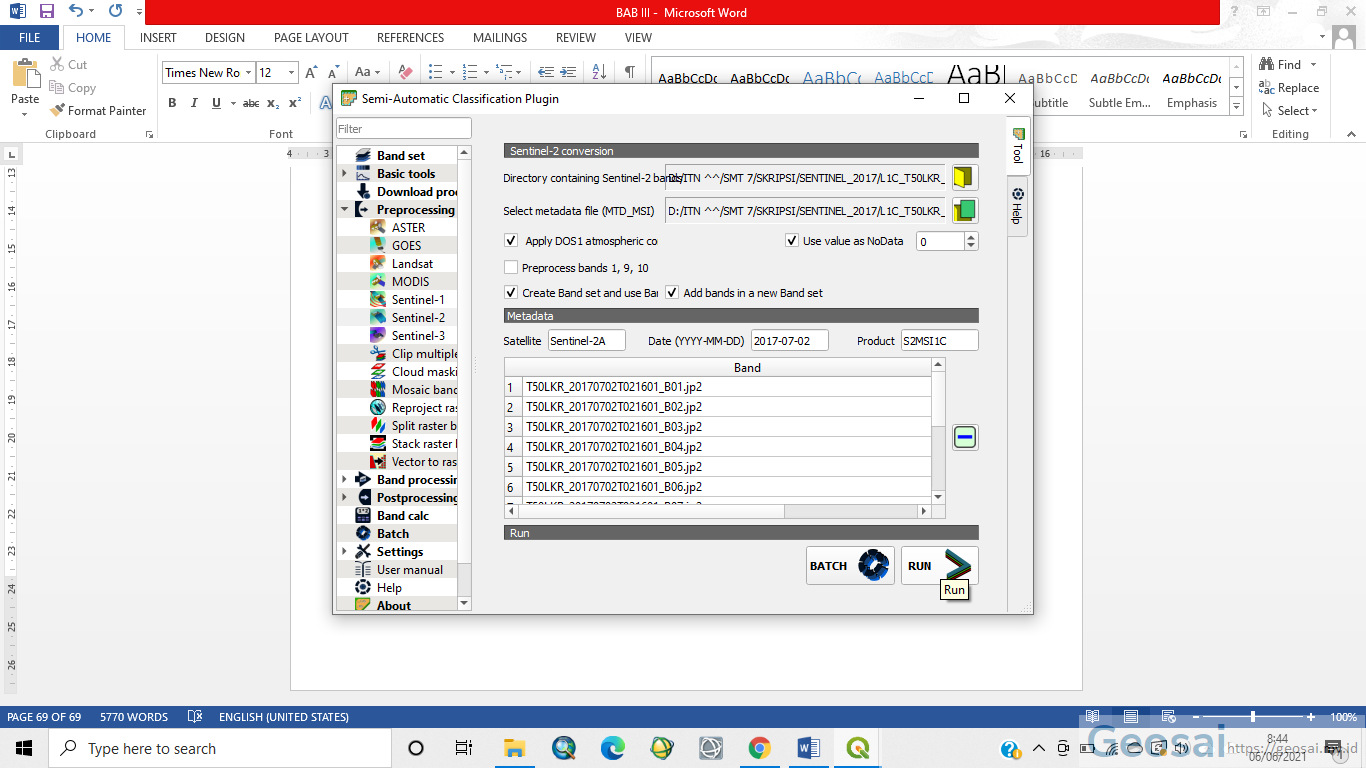 6. Hasil koreksi akan muncul di tempat penyimpanan yang telah dibuat.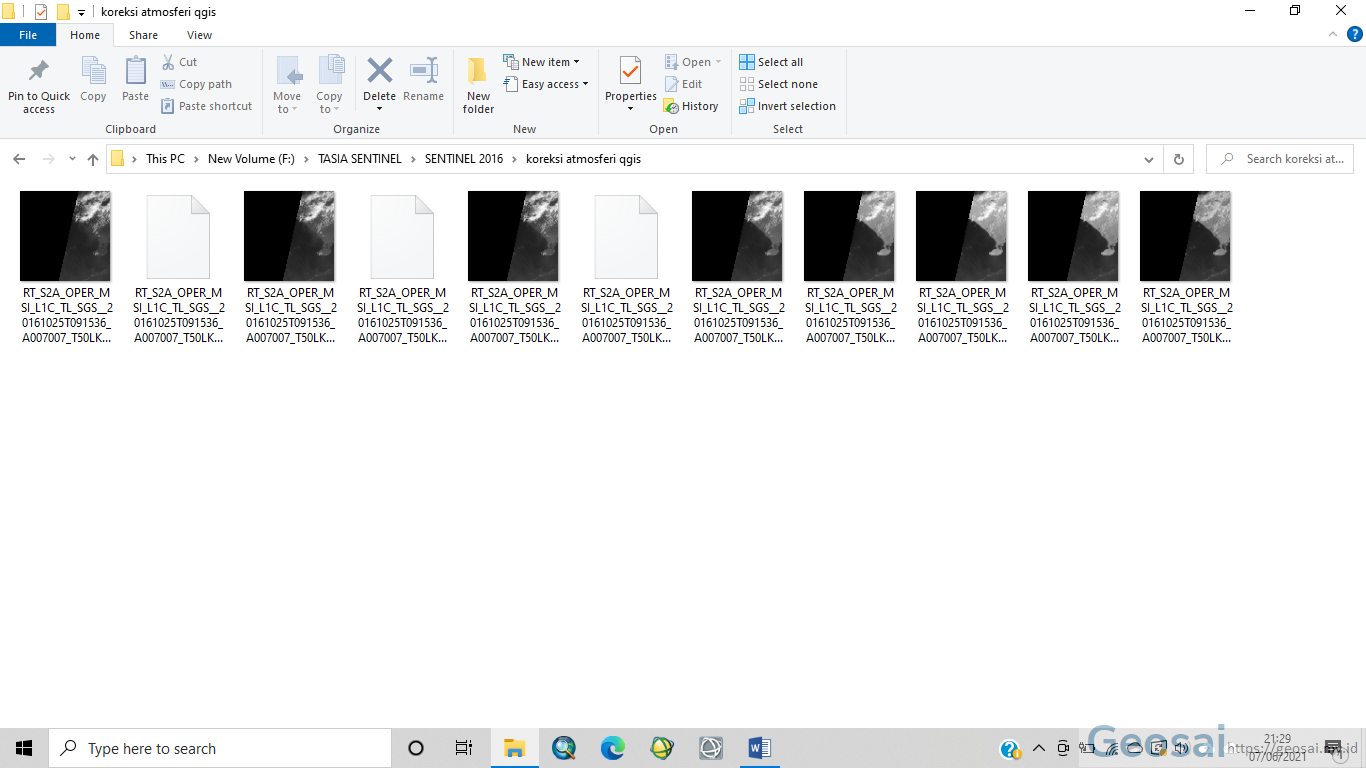 Mudah bukan koreksi atmosferik citra sentinel-2 baik dengan Sen2Cor dan Semi Automatic Classification Plugin
Selamat mencoba yaaa…