Cara membuat shp dari excel adalah tutorial yang akan saya bahas dalam artikel ini. Data sample yang saya gunakan merupakan data survey GPS yang berisi nilai Ph pada suatu lokasi di Jakarta dalam format csv.
[Baca juga : membuat sistem koordinat TM3 di ArcGIS]
---
Untuk sample data yang saya gunakan silahkan unduh pada link berikut:
[Unduh data sample format csv]
Untuk data sample yang sudah menjadi shapefile pada link berikut:
[Unduh data sample format shapefile]
---
Hasil dari tutorial ini adalah data shapefile yang bertipe geometri point. Membuat data shp dari data tabular adalah salah satu proses pekerjaan yang sering dilakukan pada SIG. Contoh pekerjaan yang sering dilakukan adalah menginput data hasil survey lapangan yang memiliki koordinat lintang dan bujur. Untuk koordinat yang kita gunakan dalam tutorial ini memiliki format desimal derajat.
Berikut langkah-langkah dalam proses pengerjaanya:
Pastikan sudah mengunduh sample data dalam format csv.
Buka data menggunakan Microsoft Excel dan pastikan tidak ada cell yang di-merge.
Data koordinat tersimpan pada Field LNG_SM (Longitude/Bujur/Koodinat pada sumbu x) dan Field LAT_SM (Latitude/Lintang/Koordinat pada sumbu y). Untuk Field No, GDN (Gedung), dan KODE merupakan data attribute tambahan.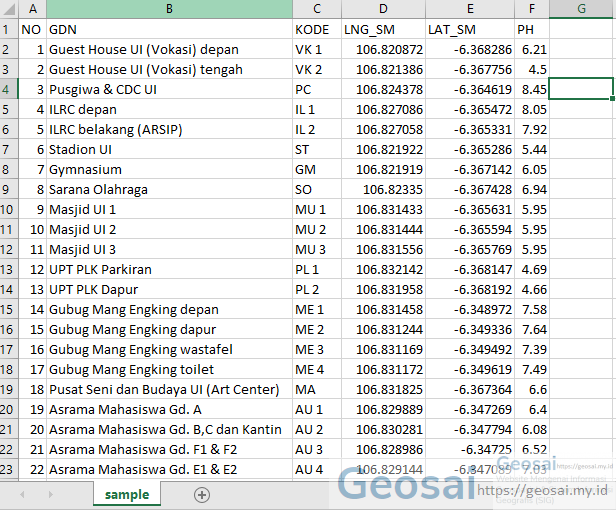 3. Buka ArcGIS lalu connect ke folder direktori tempat data disimpan agar ArcGIS dapat membaca data tersebut. Buka Catalog -> Folder Connection -> browse menuju lokasi directory -> ok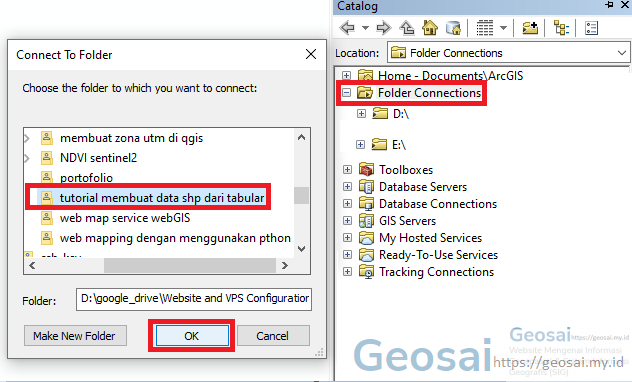 4. Klik kanan pada Table of Content lalu add data -> browse folder lokasi file disimpan -> kemudian add.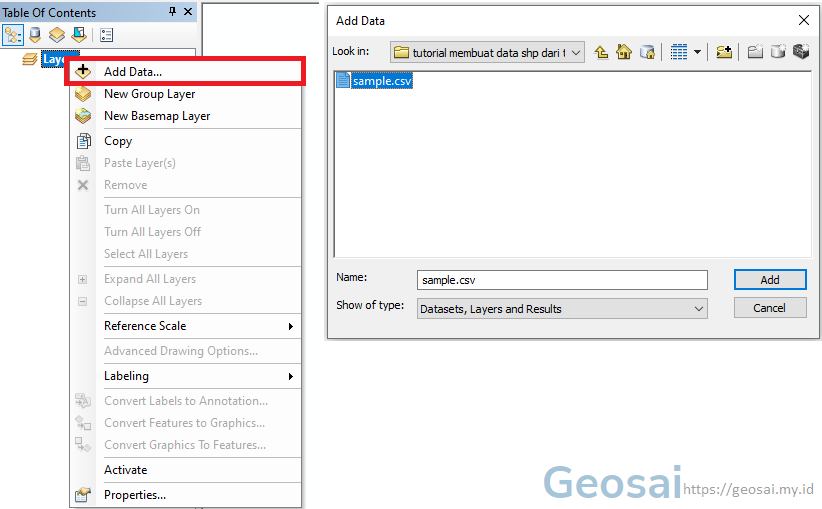 5. Add data sample csv dengan urutan:
– Pada Table of Content klik kanan sample.csv lalu display XY Data (1)
– Pada X Field isi dengan Field LNG_SM dan pada Y Field isi dengan LAT_SM (2)
– Pada pilihan coordinate system of input Coordinates klik Edit (3)
– Ganti koordinate system menggunakan EPSG dengan kode 4326 dengan mengetikan kode pada kolom yang tersedia (4) (EPSG 4326 merupakan koordinat system yang secara default digunakan pada GPS)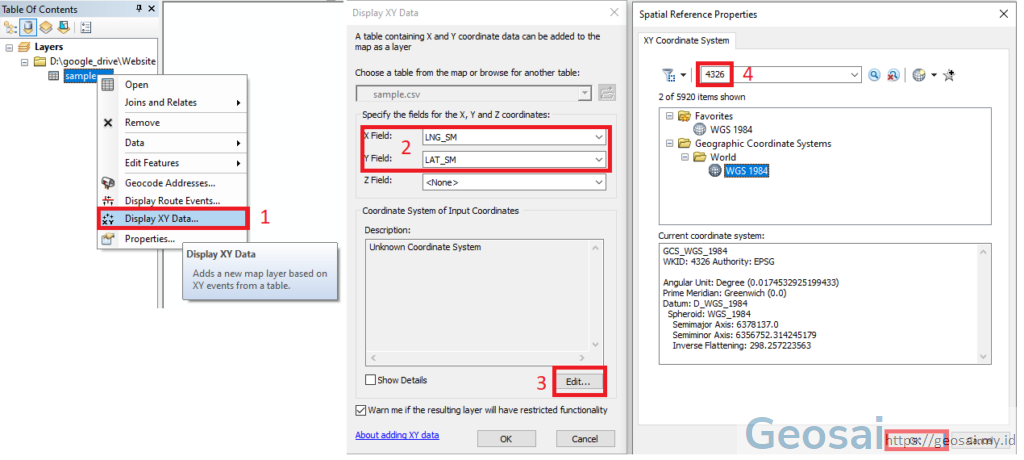 6. Jika berhasil, maka data akan ditampilkan pada main window. Data yang tampil belum otomatis tersimpan pada direktori dimana data csv berada, karena secara default data point masih tersimpan pada geodatabase di direktori C.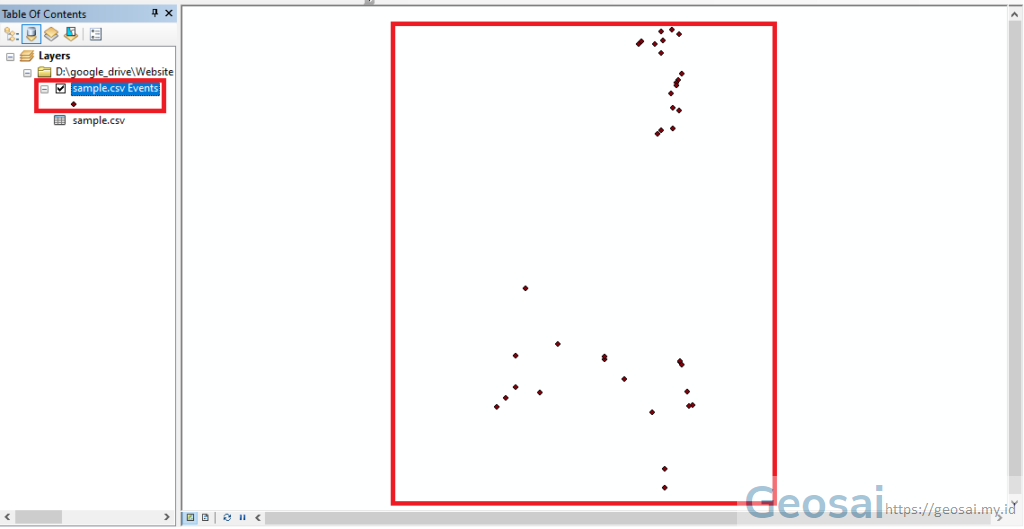 7. Simpan data point pada direktori yang diinginkan dengan klik kanan pada sample.csv (1) -> Data (2) -> Export Data (3) -> Browse output feature class untuk lokasi menyimpan (4) -> beri nama file (5) -> save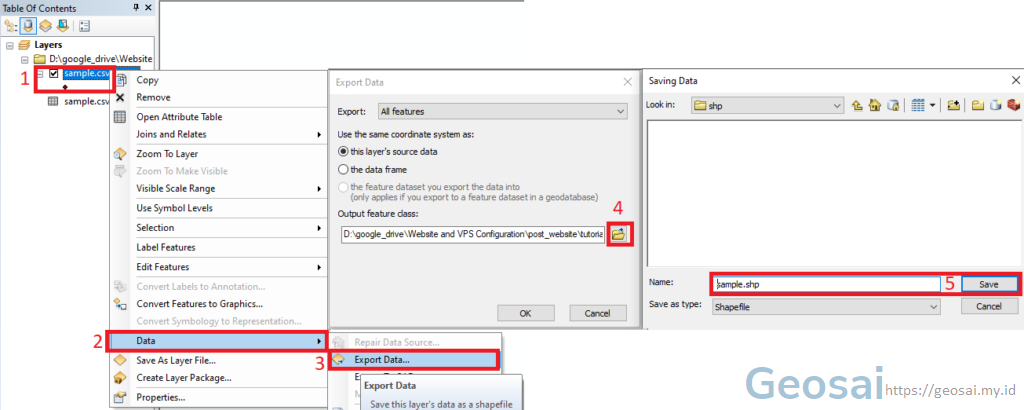 8. Data shapefile sekarang sudah tersimpan pada direktori yang saya inginkan yaitu pada folder D:\google_drive\Website.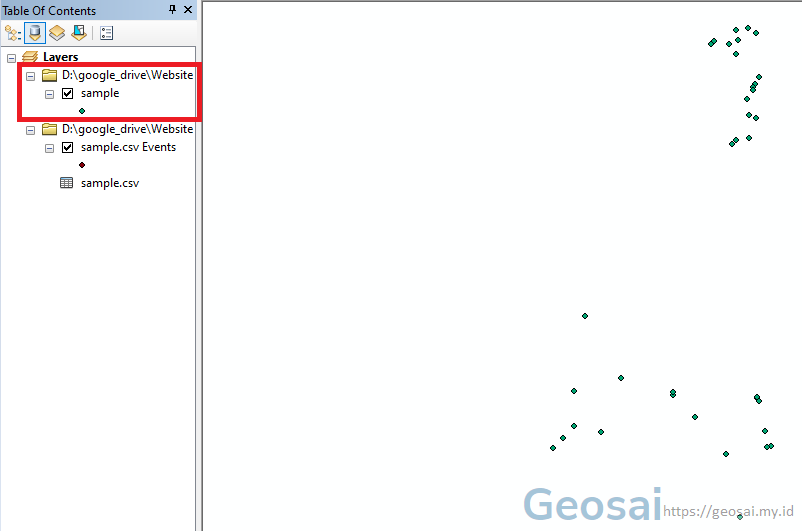 9. Saya tambahkan base map dari Citra Bing Satellite untuk menunjukan bahwa koordinat yang di-import pada ArcGIS sudah sesuai dengan data hasil survey dilapangan.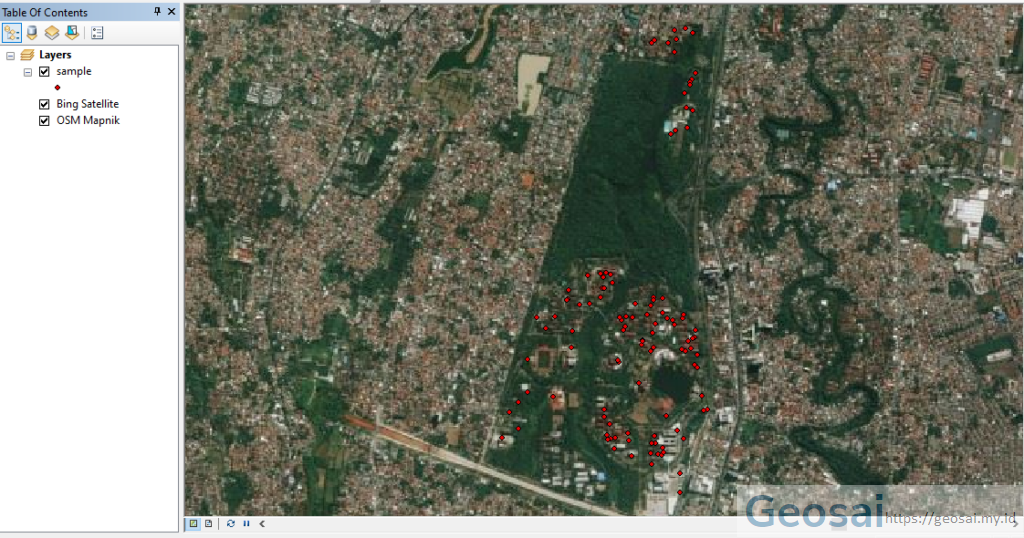 Jadi sekian untuk tutorial cara membuat shp dari excel. Semoga berguna dan sampai jumpa di tutorial selanjutnya.